Welcome to my Web World ! There are pictures of our tattoos and piercings, my life, my love, my family, our friends, my home town of Fraserburgh and much, much more... find them all here in my little corner of the web !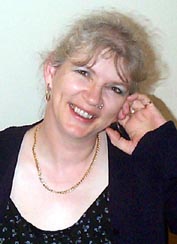 HI !! My name is Brenda (or Bobs, to my online friends!) and I live in the wilds of bonny Scotland.
I've lived here all my life and I love it.



On my various pages you will find out :-

......about how I met my husband

......about my lovely family

......about our deep interest in tattoos

......about our various piercings

......about my home town of Fraserburgh

......about our friends

......about my hen night

......about our wedding day and guests

......about cheese

......about spooky stuff

......about the Belfast Tattoo Convention

......about Scuba Diving

......about Jodie's 21st Birthday Party

......about Cthulhu Live!

......about papercrafts and altered art ** Coming soon! **


To take a peek inside my world, simply click on any of the links below. Some pages may take moment to load, but please be patient and I hope you'll find them to be worth the short wait !!



Finally, there are some links to other web sites at the bottom of this page, including my husband Tim's page, which is dedicated to the Steve Jackson role-playing game, "Killer", and also a link to the Draconian Tattoo website, where you can see numerous examples of our tattoo artist, Stix's work. Apologies to any of you who've tried to use the Draconian link in the past...it was broken - but it's mended now ! There are also a couple of Cthulhu-related links, in case any of you are interested in finding our more. If you'd like to take a look, just click on any of links. But please come back here again because I'm always writing more pages which I hope will be of some interest !


---

Thank you for visiting and PLEASE remember to sign my guest-book, which is right at the bottom of the list of links !


Sign My Guestbook
View My Guestbook

| | | |
| --- | --- | --- |
| You are guest number.... | | ....to view this page |
---

"Ask Jeeves is a trademark of Ask Jeeves, Inc., Copyright 1996-2000 Ask Jeeves, Inc."
---