On the weekend of the 7th - 8th October 2000, Tim and I went over to Belfast, Northern Ireland, for the Tattoo Convention there. Our artist, Stix, was tattooing at the show and his fiancee, Emma was also there. Our tattooed friends Shonagh, Gordon, Kev and Colin also travelled with us for the weekend. We had a fantastic time over there and can't wait to go back next year.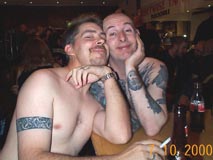 Here's Tim and Gordon on the left after having a few drinks !!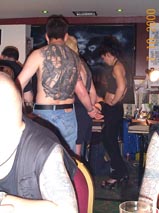 That's Tim in the photo on the right, walking around, showing off his wonderful backpiece. It's great attending Conventions because everyone who goes, loves tattoos as much as we do. It's lovely to meet up with old friends who also go to the shows which we attend and to see their new ink.
On the left below, is a lovely picture of the very lovely Emma - Stix's fiancee, and on the right is Stix himself (seated) with Kev, who looks like his minder !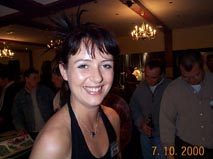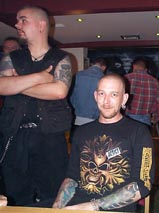 Here are some more of our group, who travelled from Aberdeen to Belfast. At the back is Ian, then his sister Shonagh and next to her is Ian's wife. Seated at the front are Colin and Kev.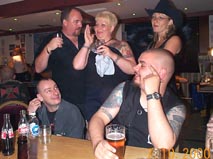 Below on the left, is Stix working on my latest tattoo and on the right, the finished result. I'm absolutely delighted to announce that this tattoo won the trophy for "Best Done at Show". I'm sure you can see why ! I think she is just SO beautiful.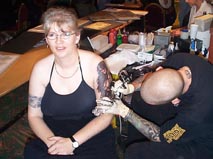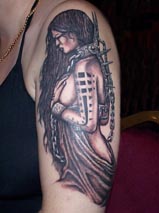 Next, below left, is a picture of my beloved Tim getting inked. If you'd like to see the picture of his completed tattoo, along with some more new ones, click on the "Tattoos" link below. On the right, is a nice photo of Tim and I.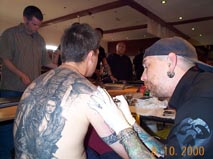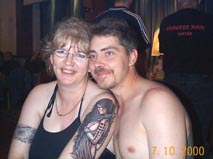 Here's Shonagh's back. This backpiece has won numerous awards at different Conventions - and deservedly so.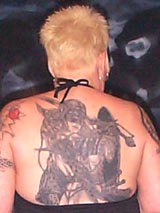 Finally, here's great picture of Stix with his haul of trophies at the end of the Convention. In all, he won Best Female Back (mine!!), Best Male Back (Tim's!!), Best Done at Show (mine again), and Best Arm (Gordon). The trophies themselves were spectacular and not only did the artist get one, but so did we ! We are all so happy for Stix because he is SO talented and richly deserves every award he wins.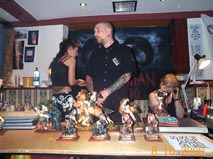 I must say a big "Thank You" to the Chimney Corner Hotel just outside Belfast. The show was held there and we stayed there too. The staff were so friendly and helpful and the food was fantastic !! We can't wait to go again sometime.
---
If you haven't already done so, could you please spare a couple of minutes to sign my Guestbook ? It's right under the list of links below. I love to read your messages ! Thank you so much.