Jodie's 21st Birthday Bash !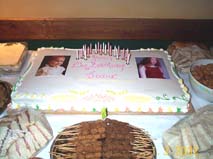 On 1st March 2002, my younger daughter Jodie celebrated her 21st Birthday. We secretly organised a surprise birthday party for her, with a 60's theme, because she and Joanne, her best friend, just love the 60's ! Invitations were sent, the cake ordered, the venue was booked, mountains of sandwiches were made plus huge amounts of other food, and we were ready to go !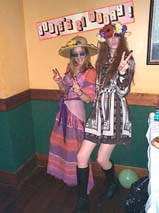 Joanne had secretly stashed a bag of 60's clothes for her and Jodie at the pub. so that they could get changed after they arrived. Jodie's face was a picture when she walked in. She took one look at me.. and walked out again ! (I have that effect on people sometimes !!) But, she came back in and was just gobsmacked to see everyone all dressed up. She and Joanne then got changed and here's a picture of them, looking great. Joanne's on the left and Jodie's on the right.




Most of the guest dressed as hippies, but Fiona came in a Mary Quant-style dress and Gordon came as Sean Connery's James Bond.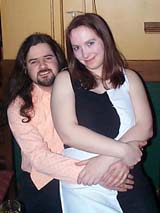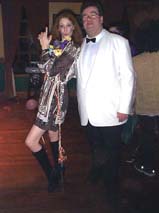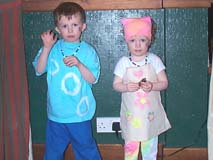 Of course, our Grandchildren were there too, dressed in tie-dyed stuff which Kerry had made! Here's Cameron and Kali looking groovy in their hippy gear. They look a little lost in this picture, but believe me, they had a great time.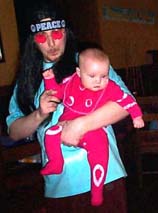 Here's baby Aaliyah in her tie-dyed babygro with Simon in a long black wig. Poor Aaliyah got a bit fretful and had to be taken home with the other two kids, but Simon's mum, Liz babysat to let him and Kerry come back down.


That's them, below left, propping up the bar ! On the right is Jodie and Tim in typically daft pose !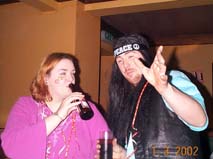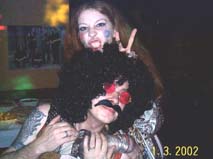 Here are some more of the pictures of the party.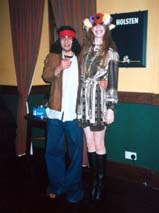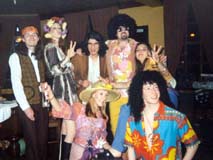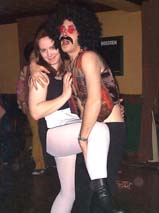 On the left are Sam and Jodie, in the middle it's Jodie and her mates. They've all been friends for years and a few of them have moved away, so it was fantastic to see them again. On the right, are Fiona and Tim getting into the party mood !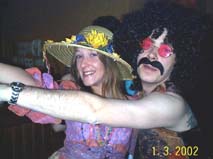 Here's Joanne looking absolutely beautiful and Tim, who was virtually unrecogniseable in a HUGE black afro wig and droopy moustache!




Finally below, here are Ian and Ainsley on the left, then Gordon and yours truly in a long blonde wig on the right !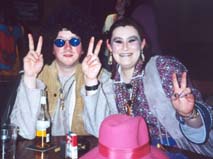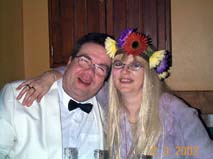 All in all, we had a really fantastic time and now we're looking for another excuse to get dressed up and get drunk again !
---

I hope you've enjoyed looking at the photos. Could I please ask you to take a couple of minutes to sign my guestbook (it's under the list of links below) to let me know who's been visiting ? It's simpicity itself to do and doesn't take long. I really like to hear what you have to say.