This is a little page all about my Hen Night !
On Saturday, June 17th 2000, I had my hen night out with my two daughters and loads of my friends and family. A mad, drunken time was had by all as I'm sure you'll agree after seeing these photos !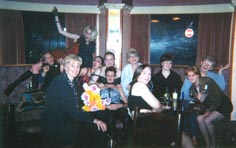 Here we all are in the bar at The Royal Hotel in Fraserburgh. We were a wee bit squiffy by this time! My girls, Kerry and Jodie, organised the party and decided that I would be a blushing bride and all the others were dressed as tarts. I'm sure everyone who saw us thought we were all insane and they wouldn't be far wrong !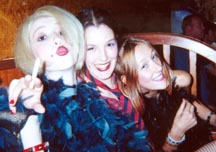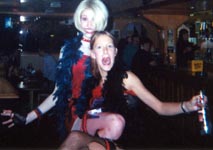 The photo on the left was taken in Findlays Bar. Nearest the camera is Jodie in blonde wig, then it's her friend Kerry and finally, Kerry's sister Joanne. In the right hand picture, it's Jodie and Joanne in the Balaclava Bar.
It sometimes gets a bit confusing because my two daughters are called Kerry and Jodie......Jodie's best friend Joanne is usually called Jodie (it's a long story!) and HER sister is called Kerry as well !!!!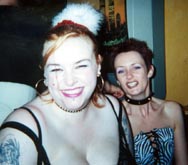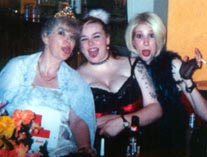 That's my daughter Kerry on the left (in the left hand picture), with Julie, our friend who did our hair for the wedding and without whose help, the wedding morning would have been even more frantic than it actually was! THANKS A MILLION JULIE - YOU'RE PRICELESS. In the other picture, Kerry, Jodie and I are showing off our tongue studs! It's not a very clear picture, so I'll try to get a new one and put it on "Our Piercings" page.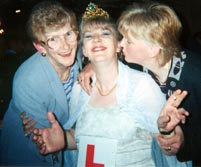 This one was taken on the street between pubs. That's my mum on the left, me in the middle and my sister Irene on the right. I think they were probably trying to hold me up by this stage!
If you'd like to see pictures of our wedding, just click the link below.
---

Could I please ask you to take a couple of minutes to sign my guestbook (it's underneath the list of links) to let me know who's been visiting ? It's simpicity itself to do and doesn't take long. I really like to hear what you have to say.
Sign My Guestbook
View My Guestbook

---