Our Wedding Day
Tim and I finally tied the knot on Saturday 8th July 2000. We had the most wonderful day, which was shared by many of our family and friends. We wanted to get married in our garden and thankfully, being in Scotland, we were permitted to. Luckily, the weather held up long enough for the ceremony to go ahead, but it began to drizzle when we were getting the official photos taken.
Anyway.... here are a selection of photos from our very special day.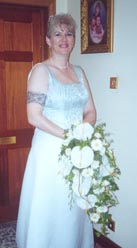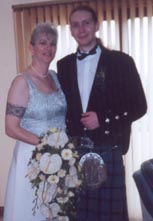 This is me on the left, just a few minutes before I stepped outside. That's me with my son Craig on the right. Craig had the task of giving me away, because sadly, my Dad died last year.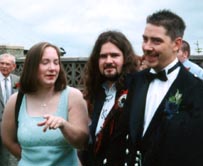 There's Tim on the right of the picture with our friends Fiona and Andrew. It was nice that Tim could chat to the guests as they arrived in the garden. I managed to catch a peek of him from inside the house. I hadn't seen him since the day before because we followed tradition and he stayed at Peter's house.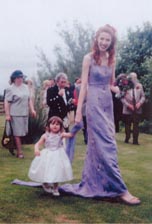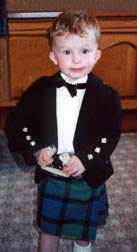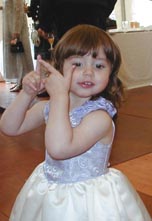 My two daughters were my bridesmaids, our grandson Cameron was pageboy and our niece Maih was our flowergirl. Here are Jodie and Maih (above left)in the garden on the way to the altar, in the centre, is Cameron looking so handsome in his kilt and on the right is Maih, in the marquee.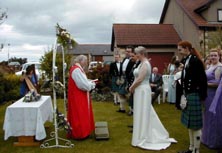 Here we are - getting married in our garden, surrounded by all our friends and family. It truly was a dream come true. Our minister, The Right Rev. F.C. Darwent, was delighted to have officated at his first ever "al fresco" wedding !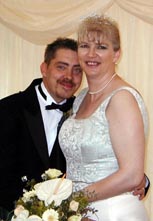 We managed to get some pictures taken in the garden after the ceremony, but the rain, which had thankfully stayed off during the wedding, gradually became heavier and heavier and we had to adjourn to the marquee to get the rest taken. This is one of the many pictures taken by Rob at the wedding. He had his trusty digital camera with him and snapped away all day. I hope he doesn't mind me using them !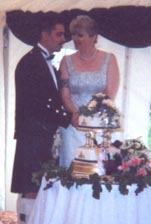 Here are Tim and I cutting our beautiful celtic-style wedding cake. With me being Scottish and Tim being of Welsh descent, we had a few celtic touches - from the design on our invitations, to the Scottish harpist who played so wonderfully both in the garden and in the marquee before the meal.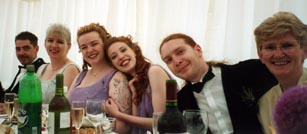 Here are some of us who were seated at the top table. Tim's on the left, then me, Kerry, Jodie, Craig and finally my Mum.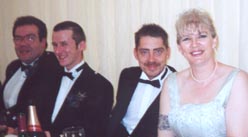 Here's more of the top table. That's groomsman Gordon on the left, best man Peter next to him, then Tim and I. (Note the bottle of Bolly on the table....Yummy !)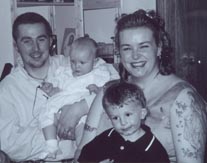 This is Kerry, Simon and the kiddypops. Poor Cameron was quite scared of the loudness of the band and poor Simon had to spend most of the evening outside the marquee, trying to calm him down.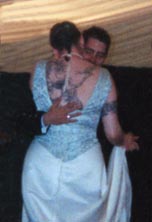 Tim and I dancing for the very first time as Mr & Mrs Davis. You can see my tattoos in this one. Our tattoo artist, Stix, and his girlfriend Emma were guests at the wedding and I think he was quite chuffed that all his artwork was seen by everyone. Both Kerry's and Jodie's tattoos were visible also. No-one said anything bad about them....maybe it was politeness! I love my tattoos and I was proud to show them off on such a special occasion.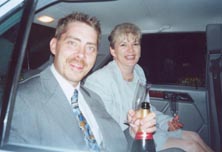 Finally (for this page), here are Tim and I leaving in the limousine. My sister took this photo and I love it because we both look SO happy.
If you'd like to see pictures of what the guests got up to, then please click on the link below.
---
Could I please ask you to take a couple of minutes to sign my guestbook (it's under the list of links below) to let me know who's been visiting ? It's simpicity itself to do and doesn't take long. I really like to hear what you have to say.